Morgan Composting, Inc.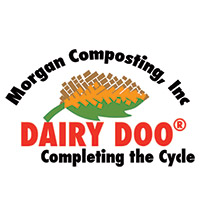 Location: Sears, Michigan
Business Form: Wholesaler, Retailer, Manufacturer and Distributor
Markets Served: Agriculture, Remediation, Retail Lawn & Garden and Turf & Ornamental
Web Address:  DairyDoo.com
Description of Company:
Morgan Composting strives to be a driving force in agribusiness that promotes sustainable practices and are innovative providers of economical and healthy soil practices.  Our mission is to strive for excellence in our service to our customers, our community and our environment.
The services we provide are agronomical recommendations and products for healthy soil production.
Products:
MCI Humic Acid
MCI Fulvic Acid
Source Coarse – Dry Humates
Source II – Dry Humates
Contacts:
Brad Morgan, President
diane@diarydoo.com
Business: 231.734.2451
Direct: 231.499.9521
Diane Sprague, Office Manager
diane@dirydoo.com
Business: 231.734.2451
Mobile 307.689.7926